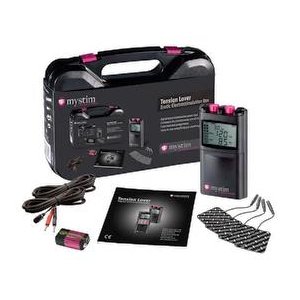 Elektro
Elektro-Sex Sex for the next Generation! Beim Elektrosex werden...
Fetisch-Kleidung für ein besonders erotisches Liebesspiel
Fetisch ist ein Begriff, den viele mit anrüchigen Fantasien in Verbindung bringen. Dabei bedeutet Fetisch im sexuellen Sinne lediglich, durch einen Gegenstand oder ein Material eine besondere Erregung zu verspüren. Also solltest Du Deinen Fetisch in keinem Fall unterdrücken, sondern ihn in vollen Zügen ausleben und genießen. In Bezug auf Kleidung besteht in vielen Fällen ein Fetisch für die Materialien Lack, Leder oder Latex. Fetisch-Kleidung ist meist eng und setzt die Figur wunderbar in Szene. Besonders enganliegende Latex-Kleider sind das optimale Outfit, um Deinen Partner zu verführen. Diese Materialien sind perfekt geeignet für den sogenannten Wetlook. Beim Wetlook sieht Deine Kleidung nass aus, wodurch Du unglaublich erregende Fantasien bei Deinem Partner hervorrufen kannst. Fetisch-Kleidung kommt bei vielen Paaren im Schlafzimmer immer wieder gern zum Einsatz, eignet sich aber auch wunderbar für die nächste Lack- oder Latexparty. Doch nicht nur Dessous oder Kleider in Lack und Leder gehören zu den beliebten Fetischarten. Auch Accessoires wie Fesseln, Ketten, Klemmen, Peitschen, Masken oder Elektro-Sex-Toys kommen immer mehr zum Einsatz beim Liebesspiel à la Shades of Grey oder auf Partys.
Fetisch-Accessoires – brich alle Tabus
Das Angebot an Fetisch-Kleidung ist riesig. Vor allem die entsprechenden Accessoires sorgen immer mehr für aufregende Stunden im Schlafzimmer. Besonders Hand- und Halsfesseln oder Fußfesseln sorgen beim Liebesspiel für pure Erotik. Peitschen und Gerten sind nicht nur aus der BDSM-Szene nicht mehr wegzudenken. Auch als erotisches Accessoire zum sexy Outfit beim Rollenspiel verführst Du Deinen Partner nach allen Regeln der Kunst. Es gibt fast nichts Erregenderes als die Lustschreie durch Peitschenhiebe. Ein weiterer beliebter Fetisch sind Masken und Kopfgeschirre. Sie erwecken ein Gefühl der Fremdheit, welches sowohl zwischen zwei Partnern als auch beim ersten Kennenlernen im Swingerclub unglaublich erotisch und aufregend ist. Ob eine Katzenmaske zum passenden Catsuit, eine Hundemaske für Rollenspiele, eine Maske mit Spitze oder aus Latex oder Leder – für jeden Geschmack und jede Party ist etwas Passendes dabei. In Kombination mit Fesseln entsteht ein Gefühl der Wehrlosigkeit, wodurch Du Dich nur auf Deinen Liebhaber konzentrierst und seine Berührungen viel intensiver wahrnimmst. Ein relativ neuer, aber dennoch sehr beliebter Fetisch ist der Elektro-Sex. Hierbei werden die verschiedenen Zonen des Körpers durch Reizstrom intensiv stimuliert. Dadurch entsteht ein prickelndes Gefühl, das Du nie vergessen wirst. Vom Elektro-Vibrator bis hin zu elektrischen Nippelklemmen – für jede Fantasie ist etwas Spannendes dabei.
Fetisch-Kleidung für eine erotische Verführung
Besonders erregende Accessoires, Dessous und Kleider aus Lack und Leder stellen das i-Tüpfelchen eines jeden Fetisch-Outfits dar. Masken und Knebel sind spannende Spielzeuge für Rollenspiele, die Dich das Liebesspiel viel intensiver erleben lassen. Mit der Kollektion von Mystim, erleben Du und Dein Partner prickelnde Momente zu zweit. Von klassischen Dildos bis hin zu kribbelnden E-Stim-Vibratoren, Analplugs und Penisringen bietet Mystim in unserem Online-Shop ein breites Sortiment an außergewöhnlichen Sexspielzeugen. Auch Bad Kitty oder ZADO bieten eine erotische Auswahl an Fetisch-Kleidung und den passenden Accessoires, wodurch Du Deine Reize gezielt in Szene setzen kannst und Euer Liebesspiel zu einem unvergesslichen Höhepunkt wird. In unserem Online-Shop findest Du erregende Inspirationen für Dein nächstes Abenteuer. Also gebe Dich Deiner Lust hin und überrasche Deinen Partner mit einem aufregenden Rollenspiel