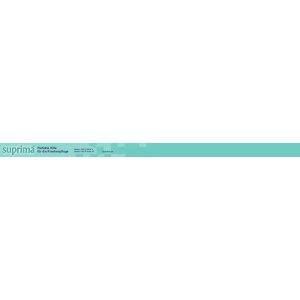 Suprima is a reliable manufacturer of underwear and clothing for people with bladder weakness or fecal incontinence. From fashionable lace briefs to Suprima protective pants and diaper briefs to bedding, Suprima has you covered, making it an ideal fit for life as an Adult Baby. Have Suprima rubberpants put on you or put it on your partner so no accidents happen overnight.
Suprima for protective pants
With Suprima briefs and rubberpants you avoid unpleasant situations in your everyday ABDL life. Incontinence often causes unpleasant odors and dampness, because of which those affected increasingly withdraw from public. Suprima's modern solutions offer optimal protection for this and work it into stylish clothing. So if a drop is lost during lovemaking, you are protected at all times and Mummy and Daddy can take care of it. In addition to briefs, you can also buy protective pants and diapers at Suprima, which provide reliable security even in case of severe incontinence.
Of course, at AB-Versand we always keep the bedroom in mind. You can accordingly order high-quality bed linen from Suprima and use it in your chambers. The trimmings are processed with PVC and available in various colors, so you feel completely comfortable and safe. Protect yourself with PVC-clothing from Suprima. Find an alternative and an addition to your diaper fetish that you can wear inconspicuously in everyday life and show off in the ABDL bedroom.
Suprima
Suprima ist ein zuverlässiger Hersteller von Wäsche und Bekleidung für Menschen mit Blasenschwäche oder Stuhlinkontinenz. Vom modischen Spitzenslip über Suprima Schutzhosen und Windelslips bis hin zur Bettwäsche: Suprima sichert Sie ab und passt damit ideal in das Leben als Adult Baby. Lassen Sie sich einen Suprima PVC-Slip überstreifen oder ziehen Sie ihn Ihrem Partner oder Ihrer Partnerin an, damit über Nacht kein Unfall passiert. [Produkte]
Suprima als Schutzhose
Mit den Slips und Pantys von Suprima vermeiden Sie unangenehme Situationen im Alltag. Bei Inkontinenz entstehen oft unangenehme Gerüche und Feuchtigkeit, wegen denen sich die Betroffenen vermehrt aus der Öffentlichkeit zurückziehen. Die modernen Lösungen von Suprima bieten dafür einen optimalen Schutz und arbeiten diesen in eine stilvolle Bekleidung ein. Falls also im Liebesspiel ein Tropfen verloren geht, sind Sie jederzeit geschützt und Mummy und Daddy können sich darum kümmern. Neben den Slips können Sie bei Suprima auch Schutzhosen und Windeln kaufen, die zuverlässige Sicherheit sogar bei starker Inkontinenz bieten. Natürlich behalten wir bei AB-Versand stets das Schlafzimmer im Blick. Entsprechend können Sie hochwertige Bettwäsche von Suprima bestellen und in Ihren Gemächern einsetzen. Die Garnituren sind mit PVC verarbeitet und in verschiedenen Farben erhältlich, sodass Sie sich rundum wohl und sicher fühlen. Schützen Sie sich mit der PVC-Bekleidung von Suprima. Finden Sie eine Alternative und eine Ergänzung für Ihren Windel-Fetisch, die Sie im Alltag unauffällig tragen können und im Schlafzimmer zur Schau stellen.